Huge congratulations to (now) Dr. Hannah Weinberg-Wolf!! (Feb, 4, 2021)

Our former postdoc, Dr. Olga Dal Monte, receives the 2020 Early Career Award from the Society for Social Neuroscience (S4SN) (Jan 14, 2021)

Our former postdoc, Dr. Olga Dal Monte, receives the 2021 Cortex Prize from the Federation of the European Societies of Neuropsychology (Nov 20, 2020)

BrainPost (Mar 3, 2020)
"Distinct patterns of cortico-limbic connectivity underlie social concern for others"

Psychology Today (Feb 24, 2020)

Yale News (Feb 24, 2020)
"Yale Study: why monkys choose to drink alone"
 
Yale News (Feb 24, 2020)
"Why monkeys choose to drink alone"

Congratulations to Siqi Fan for receiving the Keystone Symposia Future of Science Fund scholarship to attend and present her work at the Keystone Symposium on Neurocircuitry of Social Behavior this summer.

Congratulations to Megha Chawla for receiving a fellowship to attend and participate in the 2020 Summer Seminar in Neuroscience & Philosophy at Duke University. 
Lab dinner in December (2019)

Another fun 'Carvin' at the Punkin Patch' event for this Halloween! About 40 adults and kids displayed their Halloween spirit! (2019)

Congrats to Hannah Weinberg-Wolf for receiving 2019 Trainee Professional Development Award (TPDA) from the Society for Neuroscience (Aug 30, 2019)
 
Congratulations to Dr. Jessica Joiner for her successful PhD defense! (July 8, 2019)
Jessica during her introduction to her pubic defense, and Daeyeol's illustration of a perfect technique for opening a bottle of champagne during the post-defense party.

Yale News (June 14, 2019)
"Same brain region weighs decisions made for others as well as for self"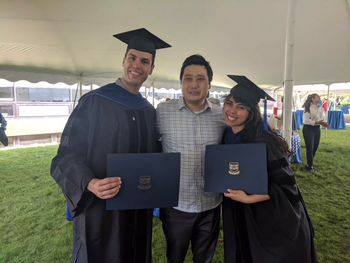 Congratulations to Dr. Matthew Piva! (May 20, 2019)
Matt and I at the graduate school reception after his diploma ceremony. The picture on the right also shows Dr. Stephanie Noble, a long-time friend of the lab.
Congratulations to Siq Fan for receiving a fellowship to attend the 2019 Kavli Summer Institute in Cognitive Neuroscience (Mar 20, 2019)
Siqi will travel to Santa Barbara during the summer to attend a special workshop for computational approaches to cognitive neuroscience!
Yale Scientific Magazine (Apr 5, 2016)
Slate (Mar 17, 2016) - most bizzare way to be cited…
Daily Mail (Dec 16, 2015) 
VICE Magazine - Motherboard (Dec 15, 2015) 
Yale News (Dec 15, 2015) 
New York Times & Alfred P. Sloan Foundation (Feb 23, 2015) 
Skeptially Speaking (Mar 1, 2013) 
NBC News (Dec 28th, 2012) 
Nature-Asia Highlights (Dec 24th, 2012) 
Nature News (Dec 23rd, 2012) 
National Geographic (Dec 23rd, 2012) 
Scientific American (Dec 26th, 2012) 
EurekAlert! (Dec 23rd, 2012) 
Society for Neuroscience Press Room: The Social Brain (Oct. 16th, 2012)
Biological Psychiatry (July 24th, 2012) 
National Geographic, Daily News (Jan 9th, 2012) 
US News (HealthDay) (Jan 10th, 2012) 
ScienceNews (April 7th, 2012) 
EurekAlert! (AAAS) (Jan 5th, 2012) 
AAAS Science Update Radio Snippet (Jan 25th, 2012) 
abc News (Jan 11th, 2012)